The Wireless Charging Station Night Lamp takes charging of your device to a whole NEW LEVEL! Wireless charging technology ensures your gadgets never run out of steam while a sleek, minimalist design adds a TOUCH OF STYLE to any desk or tabletop in the room!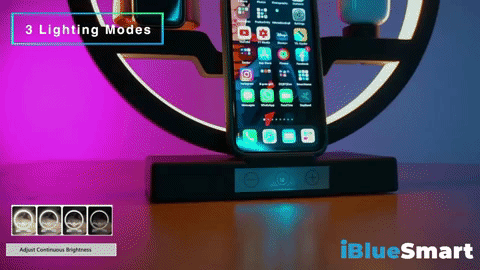 Our charging station provides a dedicated spot for your AirPods, Apple Watch, and Smartphone without MESSY CABLES. Perfect for those who want to stay organized and efficient.
✔ ENERGY EFFICIENT
The smart, slim profile of the charging hub generates less heat, ensuring more EFFECTIVE charging and increased durability.
✔ LED AMBIENT LIGHT
A built-in dimmable LED light softly illuminates your room and gives it a futuristic, RELAXING VIBE. (*The charger functions regardless of whether the light is on or off.)
✔ INTELLIGENT SAFETY FEATURES
Equipped with foreign object detection (FOD) and overheat protection, AUTOMATICALLY detects and cuts off power when necessary.
✔ COMPACT DESIGN
Transform your desk into a neat workspace you always desired! The modern, yet compact design makes it the perfect accessory for any room.
SUPPORTED DEVICES
Wireless charging: iPhone 12/12 Pro/11/11 Pro Max/XS Max/XR/X/8/8 Plus (7.5W); Samsung S20/S10/S9/S8/Note 9 (10W), and other Qi-enabled cellphones
Standard charging: Apple Watch series 1/2/3/4/5, Apple AirPods 1/2, and AirPods Pro
BOX INCLUDES:
1 x Wireless Charging Station Night Lamp
1 x Charging Cable