Quick, clean & accurate. Without dirty fingers.
This lubricator is a smart tool for the basic care of your bike chain. Small, refillable and super easy to handle – Just let it roll!
Hold the lubricator between your fingers, press it slightly onto your chain and let your crank rotate backward. Lubrication is now fully automatic. Two to three turns – that´s it.
The lubricator! The freely rotating lubricator wheel is an applicator and lubricant reservoir in one. It applies just the right amount of lubricant your chain needs while absorbing fine metal abrasion.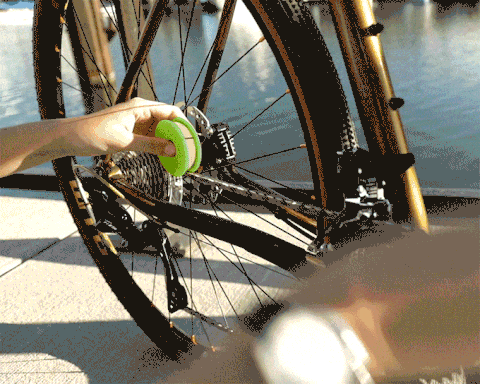 While rotation, the soft lubricator wheel adapts to the shape of the chain and lets the stored lube penetrate between the plates and over the rollers up to the pins. Once filled, its capacity is sufficient to lube your bike chain up to 20 times.

A product for a lifetime.
The lubricator can be easily refilled and has an unlimited lifespan. The lubricator wheel is interchangeable & biodegradable. It is made from natural raw materials – without any plastics.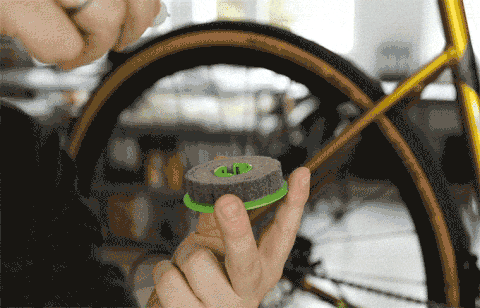 The ecological power pack.
Our lubricator protects your chain as well as the environment. With components based on plants and degradable additives, it is eco-friendly and easily biodegradable without missing excellent wear protection. Its extremely good adhesive power and guarantees a low-noise and smooth running of your chain.
No oil splashes around, no oil leaks when you carry the lubricator in your pocket. Move it, shake it – nothing will happen.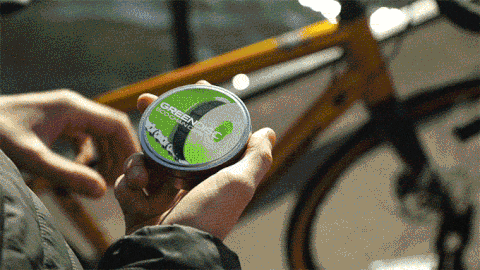 With lubricator, you save up to 90% chain lube.
A green planet? It´s in your hands! With lubricator, no oil flows into the rag, no oil splashes around. No harmful substances get into the soil and groundwater. Less pollution, more riding pleasure.



A proven concept. Refined.
The lubricator works according to the same technological concept, but offers 25% more storage volume for your lube, saves raw materials by a new locking mechanism, and is therefore even more environmentally friendly!

Carefully adjusted in diameter & thickness, the lubricator offers more volume. A mechanical closure eliminates the need for neodymium magnets.